Purrfectzone
Regular price
$159.99
Sale price
$79.99
Unit price
per
Sale
Sold out
Includes a 90 Day 100% Money Back Guarantee
Save by purchasing a bundle of two(2) complete handheld bidets and/or diaper sprayers.  Say goodbye to paper towels for good with two all-inclusive sets that include everything needed for easy DIY installation! It's never been easier or more convenient than now.
Discreetly mounted on the commode, it assembles in minutes, giving you lasting sanitation solutions.
Comfortably cleans with adjustable water pressure.   
Great for Personal Hygiene

Get that satisfyingly crisp, clean feeling after using it.
Enjoy the convenience of having a bidet sprayer that's quick and easy to install.
Make your life easier by cleaning up messy diapers in a snap.

Be more environmentally conscious.  You'll save the environment and money on toilet paper
You'll have a refreshingly clean feeling after using it.
Share
View full details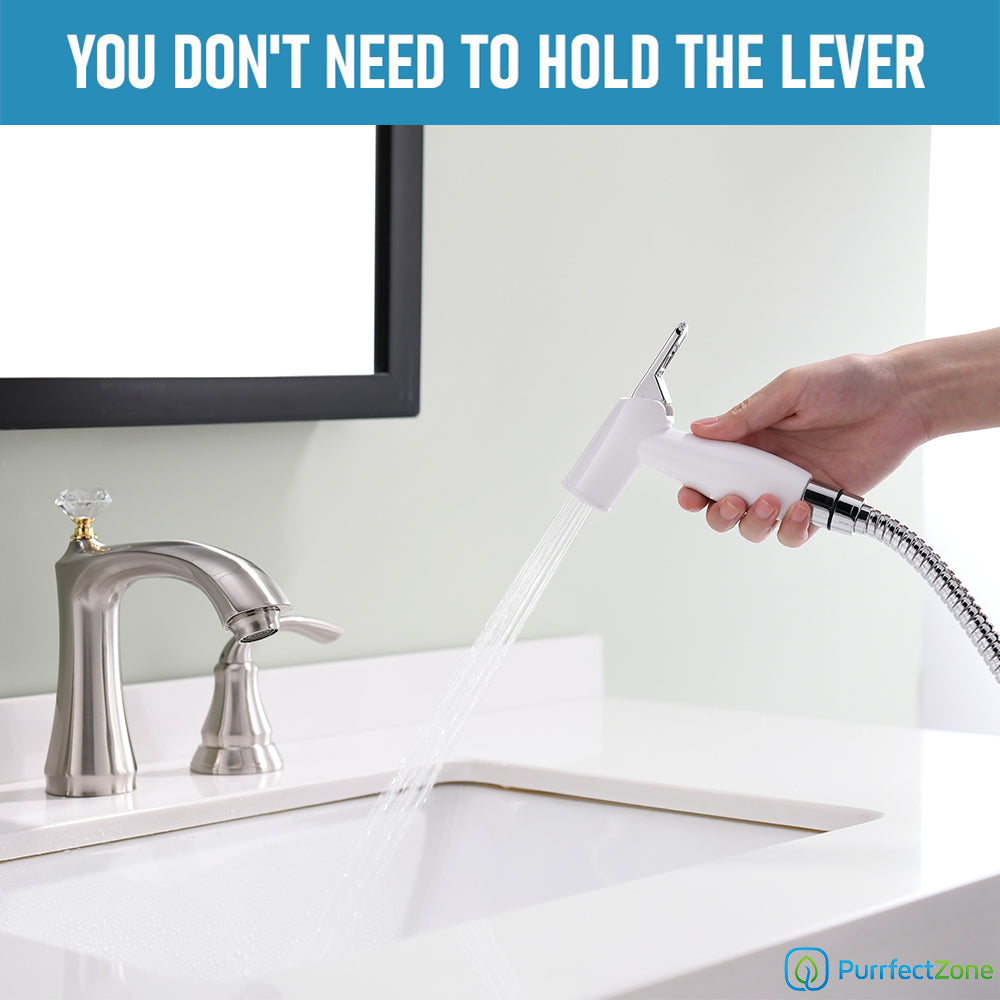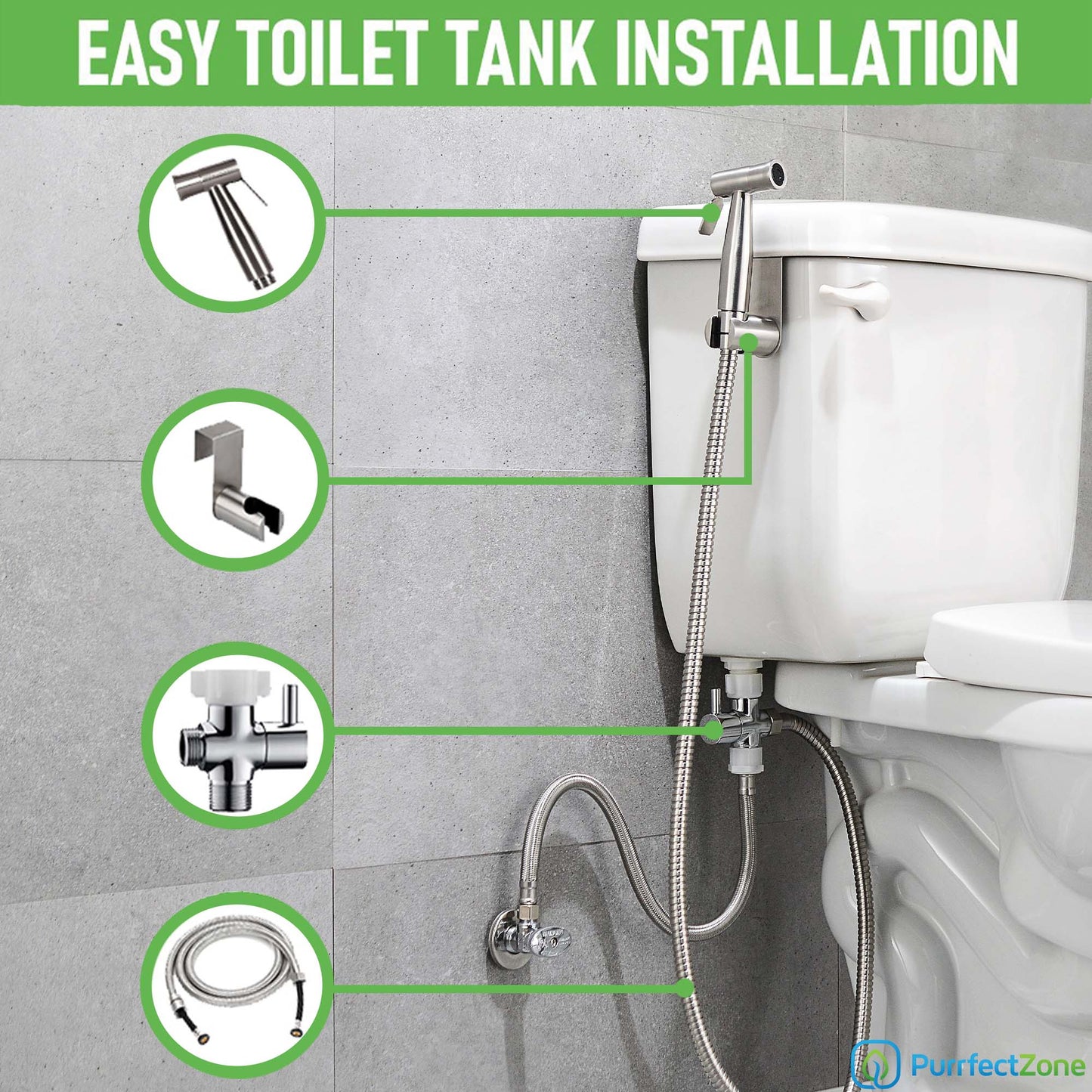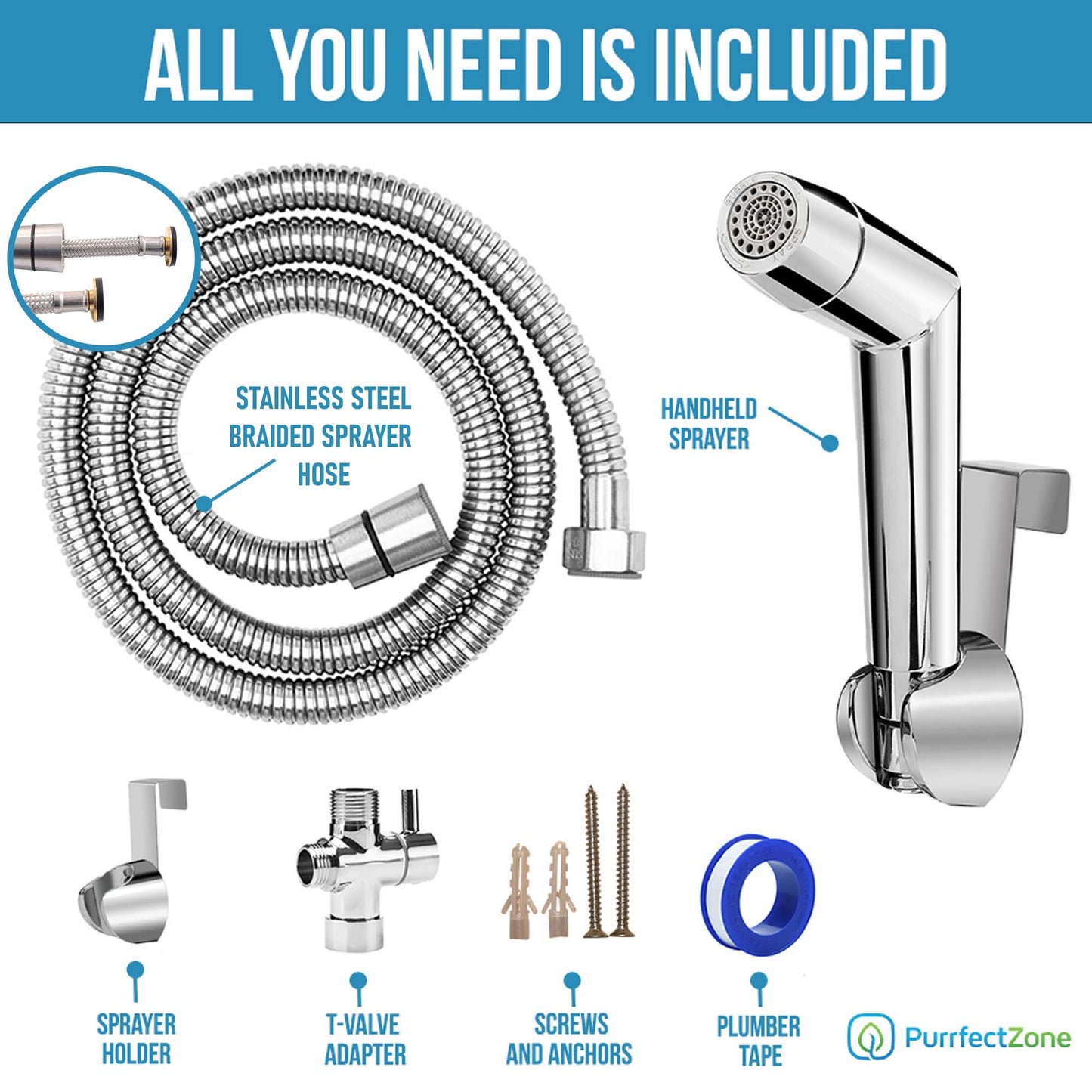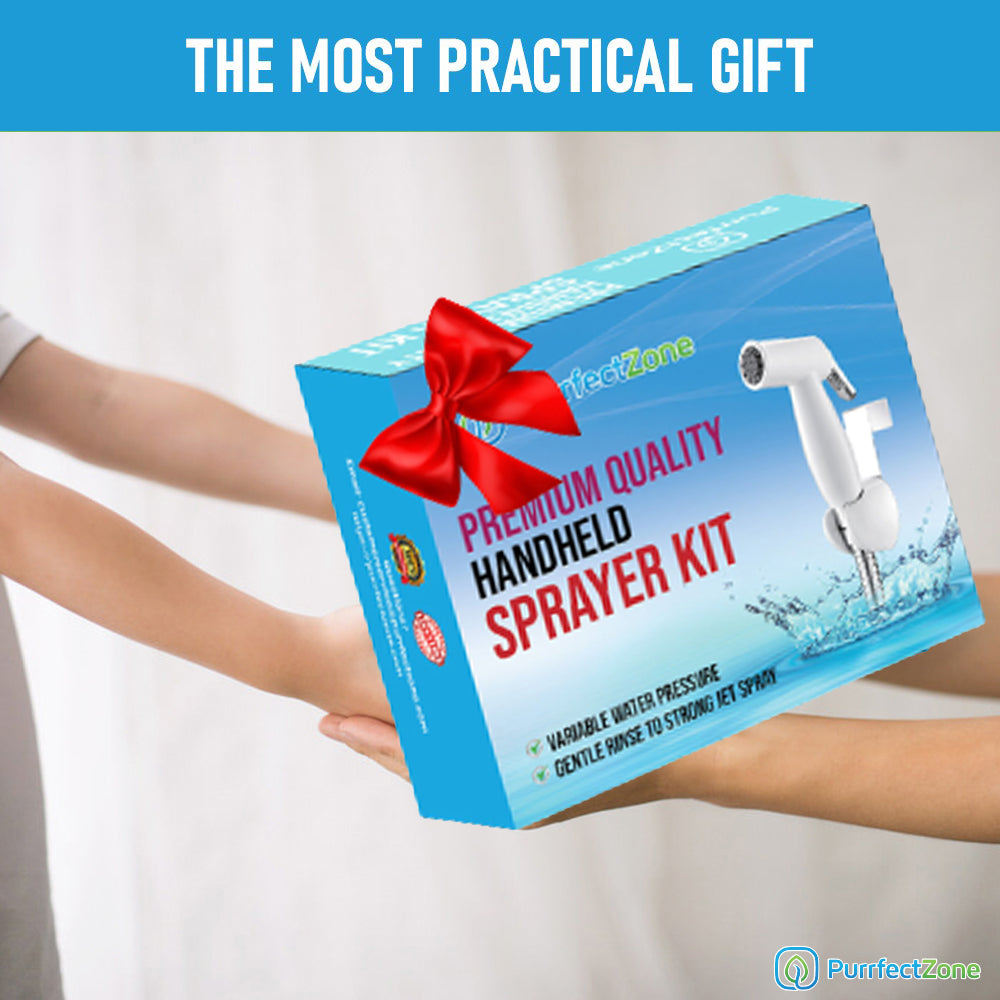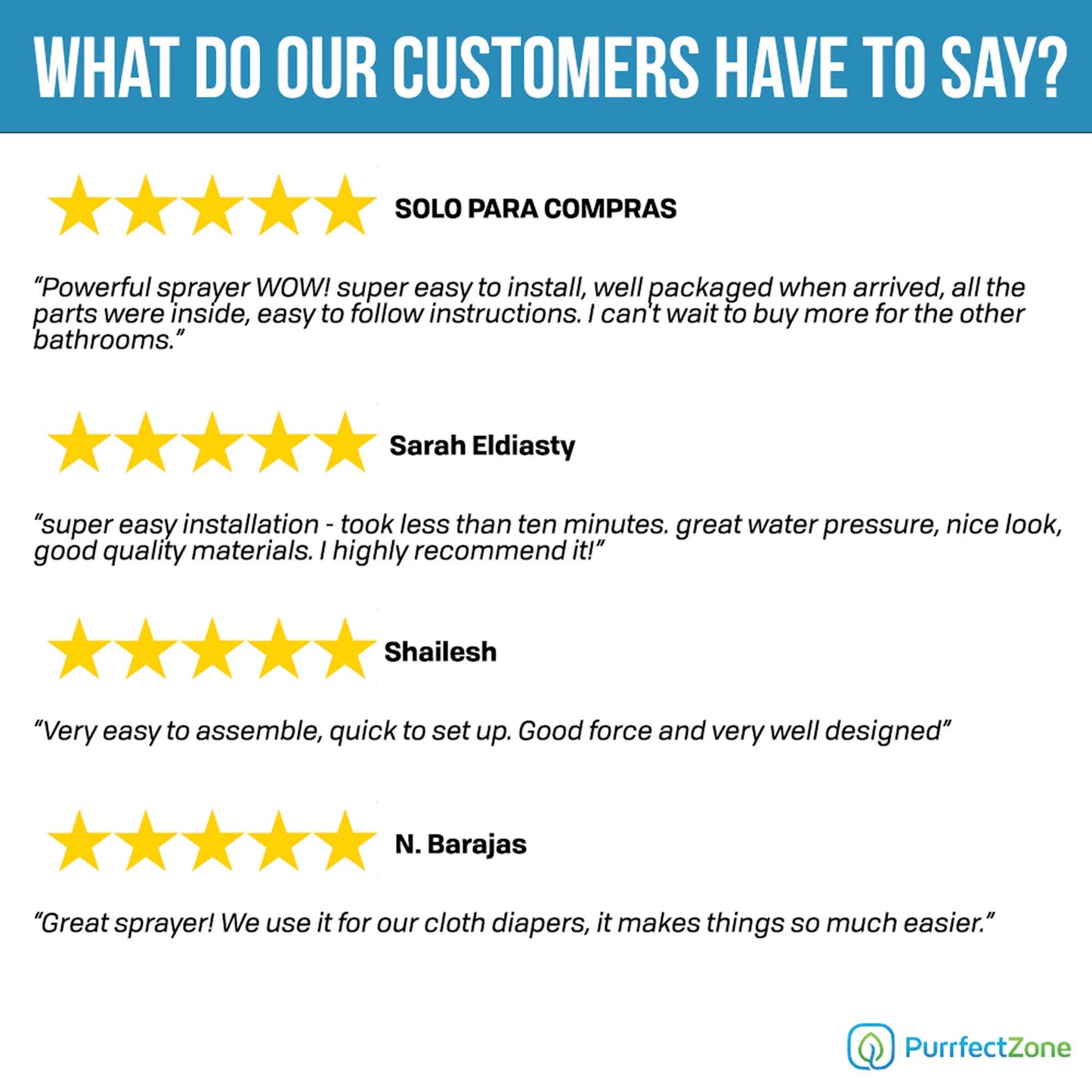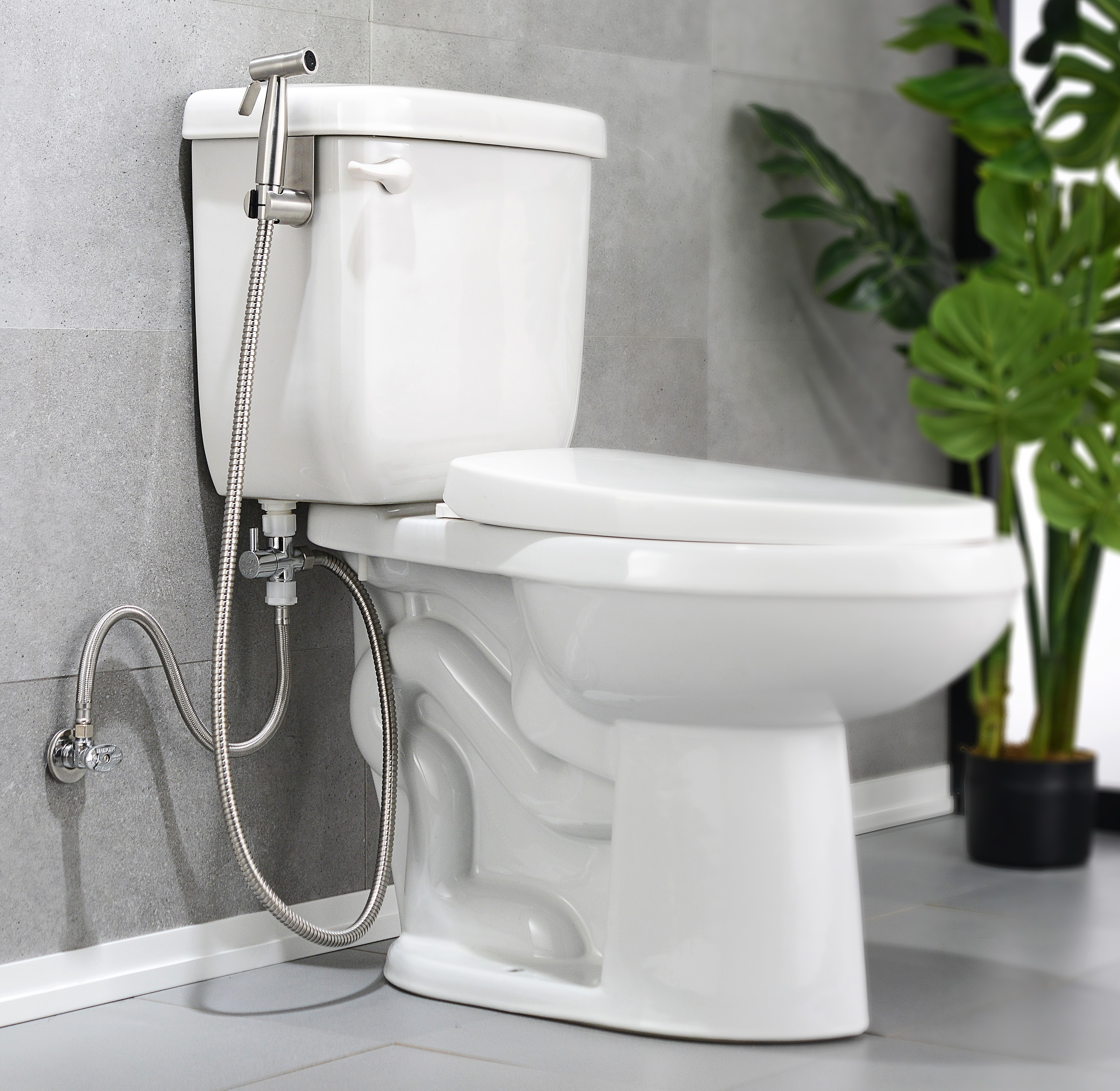 Includes T-Valve, Stainless Steel Sprayer Head, Bidet Holder, Stainless Steel Hose, Plumbers Tape
1) Empty toilet tank and install T-valve 2) Install Hose 3) Install Bidet Sprayer Head 4) Enjoy Using Your New Bidet Sprayer!
Why Use a Bidet Sprayer
Using a bidet sprayer can provide numerous benefits in terms of improved hygiene and comfort. A bidet sprayer sprays water over the genital and anal areas of the body, allowing users to get a deep clean without having to use toilet paper. Bidet sprayers are great for those who have sensitive skin, as the water is gentle and will not irritate the skin. This is especially beneficial for those who suffer from hemorrhoids or anal fissures.
Clean Large Items Like Trash Can
Cleans Bathrooms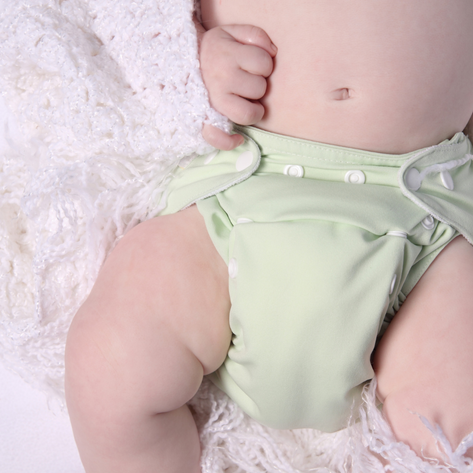 Cleans Cloth Diapers
Supports Personal Hygiene
INSTALL T-VALVE
INSTALL BIDET SPRAYER HEAD
USE YOUR NEW BIDET SPRAYER!
Includes a 90 Day 100% Money Back Guarantee
You should never pay for something you don't want. We are so sure that Purrfectzone will blow you away that we have no issues refunding you for any purchase you are not 100% satisfied with. No questions asked.

FAQ's
Purrfectzone's mission is to provide quality bidet sprayers and bathroom products for a reasonable price. Founded in 2017, Purrfectzone has also quickly become known for providing world-class customer care.
Yes, our handheld bidet has a nozzle that stays attached to the toilet and you can direct it to manually wash your private area to clean your genitals and anus after using the toilet or for freshening up. They clean better than bidet attachments because you can use your hands to control where you want to wash.
We have an easy, no-questions-asked refund guarantee. If you don't like it, contact us and we'll process your refund.
Use a bidet after you poop, but before you wipe. Sure, you can wipe first, but most people who use a bidet find it easier and cleaner to just use the bidet. This is because the water pressure will adequately clean your bottom without the need for toilet paper.
One of the top benefits of bidet sprayers is better hygiene. Just like with any other mess, water has proven to be more effective for cleaning than using a dry paper towel. While you may be able to scrape some food off the plate with a paper towel, you never truly get a clean plate without using water.
Bundle of Two Complete Kits, our Stainless Bidet Sprayer and White bidet/diaper sprayers
$79.99